Update: ClearCorrect's "new Era in Digital Orthodontics"
Friday, May 03, 2013 by Susanne Zeitler
You might remember our blog entry about ClearCorrect LLC, the manufacturer of clear aligners. They're using our Cloud to check, pack and manufacture their clients' files and with their cooperation with Objet, they proclaim to enter "a new Era in Digital Orthodontics." Take a look at the video to see this impressive success. We're proud to be part of this and to help improving ClearCorrect's efficiency.
via youtube
Category: 3D Printer
---
Comments
[ 0 ]
Tweet
---
AMUG 2013
Thursday, April 18, 2013 by Ulf Lindhe
Today is the last day of the Additive Manufacturing Users Group meeting in Jacksonville, Florida. This year over 365 conference attendees plus 62 exhibitors from all-over the planet participated in four and a half very packed days. Eery year the organisers do a great job of filling up the very busy days with training sessions, industry news, in-depth technical presentations and social networking opportunities.
More info about the Additve Manufacturing Users Group at http://www.am-ug.com/
Category: 3D Printer
---
Comments
[ 0 ]
Tweet
---
Blueprinter is shipping
Friday, April 12, 2013 by Alexander Oster
Blueprinter is a wonderful approach to get sintering from a price-range of 150000€ and more of current Selective Laser Sintering (SLS) machines into a more affordable dimension.
The machine sinters polyamide like powder with a technology called Selective Heat Sintering (SHS). As the Laser is replaced by a heating element, the price tag of this machine is only 12500€ - a number which should be attractive for many businesses.
netfabb delivers the backend of its software stack, and so we have been able to get exclusive picture material of the final production version of the machine. With its clean looking design and very compact construction, it will fit very well in a commercial environment.
Congratulations to Blueprinter for the first shipment! We look forward to see the machine printing live soon.
via Blueprinter
Category: 3D Printer
---
Comments
[ 0 ]
Tweet
---
netfabb in the Microsoft Booth @ Gadget Show Live 2013
Thursday, April 04, 2013 by Ulf Lindhe
Microsoft 3D scanning faces at the Gadget Show Live 2013 using netfabb and a kinect.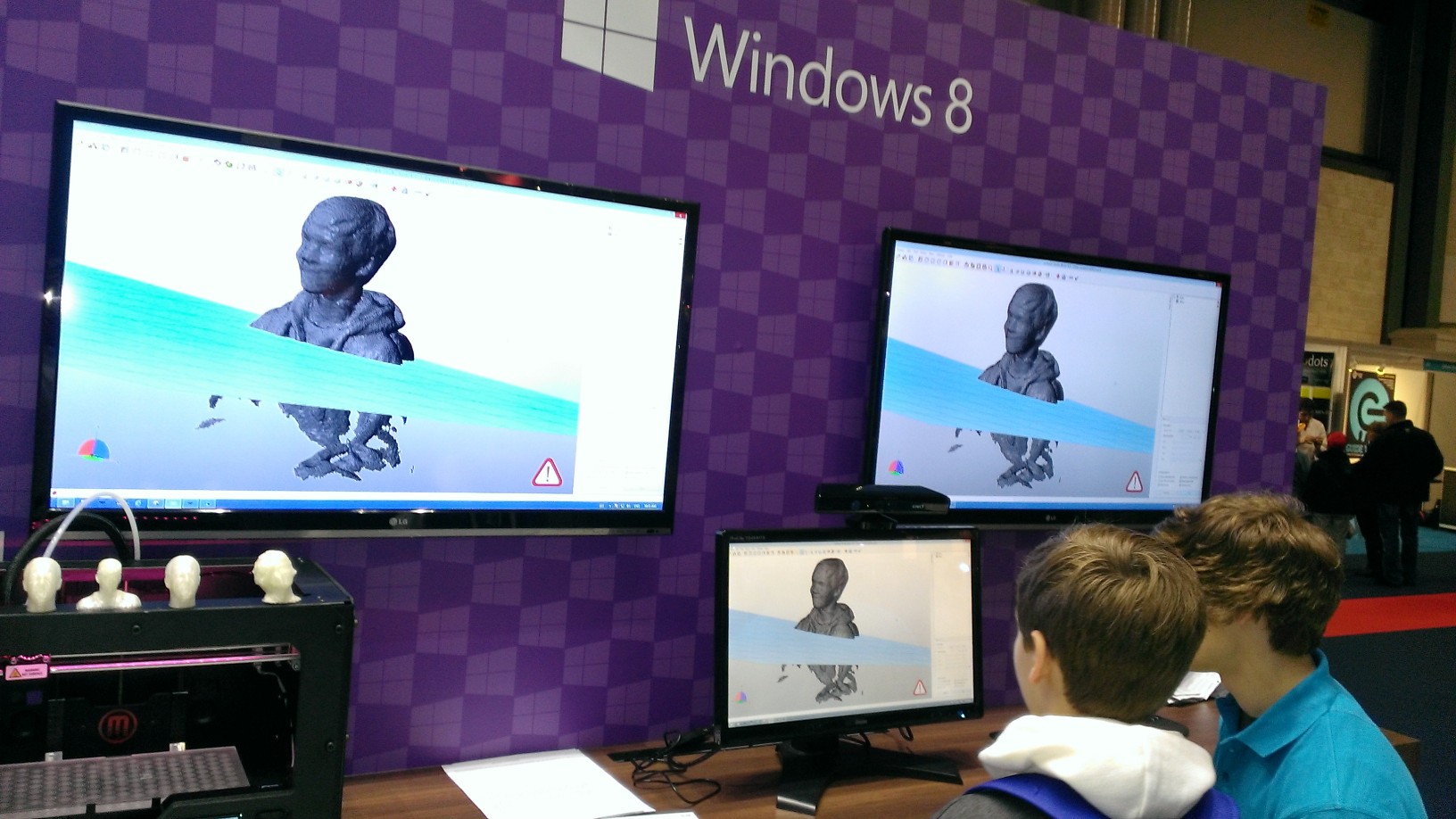 Photo: Limor Schweitzer, RoboSavvy Ltd.
Category: 3D Printer
---
Comments
[ 0 ]
Tweet
---
The Festo BionicOpter
Monday, April 01, 2013 by Alexander Oster
In this blog, we already covered several examples of new robot technology that is driven by Additive Manufacturing. FESTO now succeeded in creating a light-weight robot that is imitating the Dragonfly - and hovers almost weightless in the air.
Just watch this amazing video:
Category: 3D Printer
---
Comments
[ 0 ]
Tweet
---
Meet Novedge - netfabb reseller in San Francisco
Friday, March 22, 2013 by Ulf Lindhe
A recent addition to our team of value added resellers are Novedge LLC, a leading online software store for design professionals from architects to engineers, to filmmakers and graphic designers.
Novedge are based in the San Francisco SoMa-district but mainly sell online allover the Americas at http://www.novedge.com/brands/181.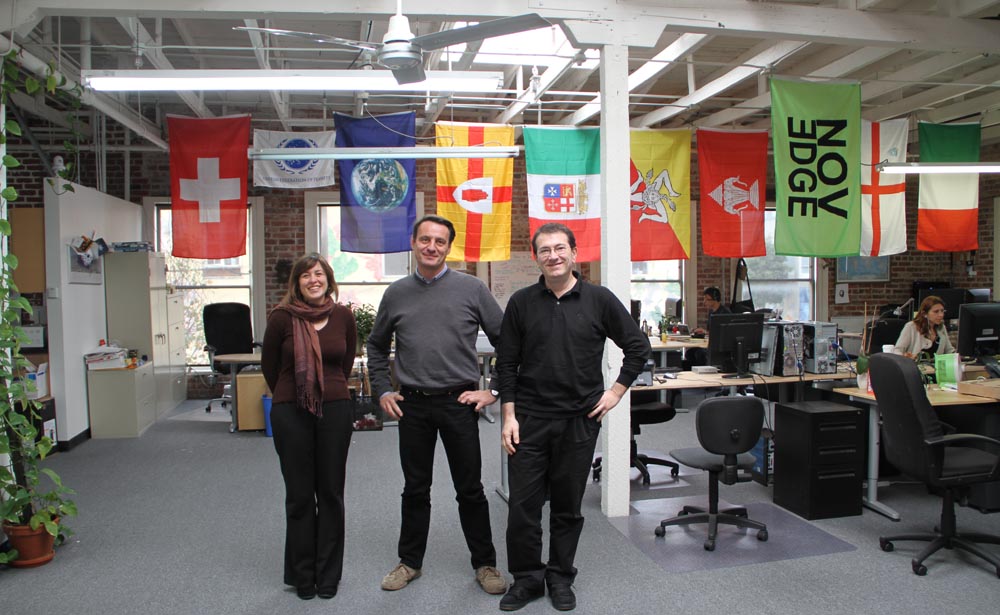 From left to right: Aurora Meneghello, Franco Folini and Cristiano Sacchi.
Category: 3D Printer
---
Comments
[ 0 ]
Tweet
---
netfabb Studio Basic - c't Special Edition
Monday, February 25, 2013 by Susanne Zeitler
We've created a special version of the free netfabb Studio Basic which includes the brand new primitives screw, nut and gear, plus you can save several parts as one STL. Check it out on the CD included in the German c't magazine for computer technology. If you don't have access to it: those features are also available in the netfabb Engines for Ultimaker and fabbster or in the advanced software netfabb Professional.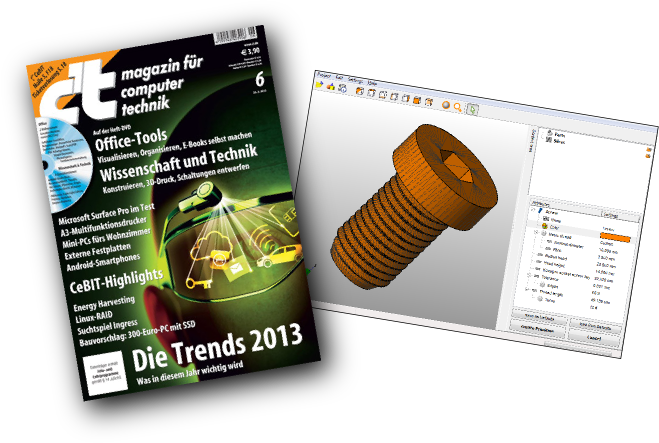 via c't
Category: 3D Printer
---
Comments
[ 0 ]
Tweet
---
Jewellery to do yourself. And love.
Friday, February 22, 2013 by Susanne Zeitler
"Red. Yellow. Bright orange. Black. Pink. Mint green. Greige. Camel. Petrol. Sunset rose. Party blue." These are just some of the many, many colors you can now choose for your new jewellery. On mijuu.de you are the designer, you create a ring's shape, choose the color which matches to your new shoes and wait for the delivery. 3D printing makes it possible!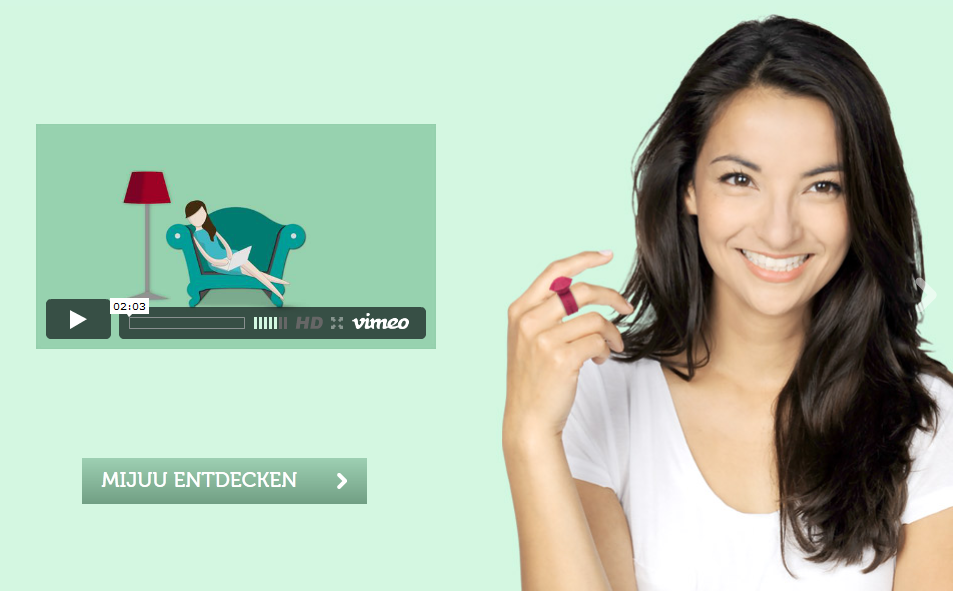 Category: 3D Printer
---
Comments
[ 0 ]
Tweet
---
netfabb at the Pacific Design & Manufacturing
Friday, February 15, 2013 by Ulf Lindhe
Our Southern California reseller Source Graphics did a great job this week at the Pacific Design and Manufacturing Exposition at Anaheim Convention Centre near Disneyland in California.
Feel free to contact Brent Pedersen or Gary Diulio at anytime if you're in SoCal and have any questions about netfabb.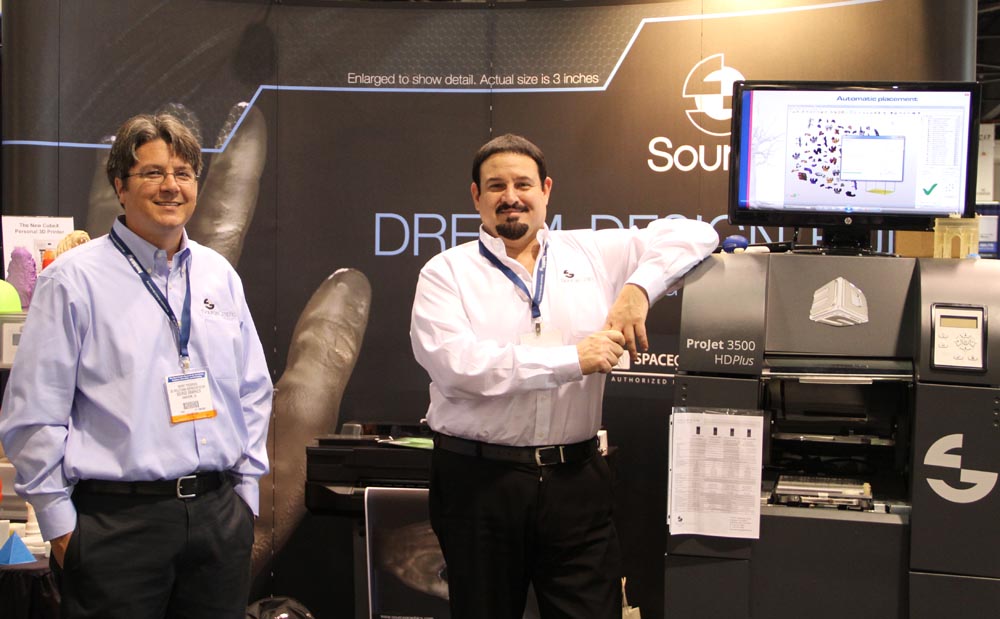 More info about Source Graphics here.
Category: 3D Printer
---
Comments
[ 0 ]
Tweet
---
DLD13 - The 3D Printing & Manufacturing Revolution
Tuesday, February 12, 2013 by Alexander Oster
On the Digital Life Design Conference in Munich in January, there has been a panel discussion about the present and future of 3D Printing. Erik de Bruijn from Ultimaking, Peter Weijmarshausen from Shapeways, Ingo Ederer from Voxeljet and Pablo Holman from the Intellectual Ventures Lab are talking about the disruptive impact of additive technologies in our future life.
via DLD Conference
Category: 3D Printer
---
Comments
[ 0 ]
Tweet
---
Subscribe this Blog
That's an RSS feed. Just click on it to receive content updates.