Fabricated: The New World of 3D Printing
Monday, February 11, 2013 by Ulf Lindhe
Fabricated is a new book by Hod Lipson that tells the story of 3D printers and how the magic happens when you plug a 3D printer into today's mind-boggling digital technologies. The result is an explosion of technological and social innovation and we are thrilled that Hod selected a netfabb designed part for the cover!
The cover photo shows an art piece designed by netfabb using Selective Space Structures. The part takes advantage of the freedom in form and function offered by additive manufacturing. By mimicking the way nature uses structures the burger combines many different types of structures in one parts to achieve different properties from a basic compound. The piece was built in laser sintered PA by FIT Fruth Innovative Technologien GmbH and the image is courtesy of Creative Tools.
More info about the book on Amazon.
Category: 3D Printer
---
Comments
[ 0 ]
Tweet
---
The Official Ultra-Ever Dry Video
Friday, February 08, 2013 by Alexander Oster
Just watch the following stunning video and be amazed. For 3D Printed complex items, partially coated with a high-tech water-repellant surface, the industrial and consumer applications are endless.
via ultraeverdry.com
Category: Structures
---
Comments
[ 0 ]
Tweet
---
netfabb in Chinese
Wednesday, January 02, 2013 by Ulf Lindhe
The latest netfabb update to version 4.9.4 which was released 2012/12/22 now features a simplified Chinese language option. Just go to Settings and select Chinese as your language.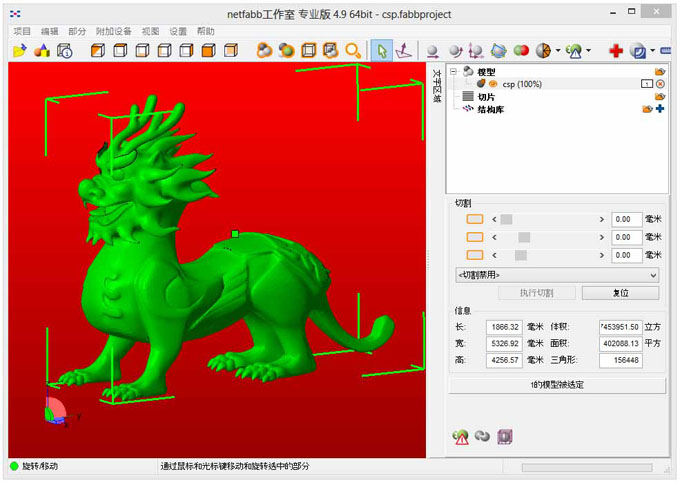 Update to 4.9.4 is automatic but if you have automatic updates turned off you can update under Help --> Update netfabb. For a list of all updates in 4.9.4 please check the changelog.
Category: 3D Printer
---
Comments
[ 0 ]
Tweet
---
3D printed Christmas Cookies
Thursday, December 20, 2012 by Alexander Oster
Our friends from the Coburg Design Lab - lead by Ralf Holleis - made a wonderful video about their Christmas Cookies... Of course printed in 3D. Take a look:
Category: 3D Printer
---
Comments
[ 0 ]
Tweet
---
Seasons Greetings!
Tuesday, December 18, 2012 by Ulf Lindhe
Many thanks to our customers, users, resellers, prospects, fans and friends for a fantastic 2012!
Category: 3D Printer
---
Comments
[
2
]
Tweet
---
Testimonial - netfabb CAD Import Tool
Wednesday, December 12, 2012 by Ulf Lindhe
"Eagle Engineered Solutions purchased two seats of netfabb Studio Pro in 2010 using it for .STL model manipulation and analysis. Working with customers to create rapid and direct investment casting patterns and ceramic cores utilizing "good" .STL files is critical to our success. Eagle has always made it our goal to be 'easy to do business with' and that includes helping our customers with file conversions.
We knew we had a problem when receiving native CAD, IGS and STP files from our customers and conversion using our in-house CAD system took between 5 - 30 minutes per file to convert. Because of our good experience with netfabb as a STL modeling tool we turned to Alex Oster at netfabb who worked with his team to further refine development of their CAD Importing Module. We've used the Beta version and worked through some of the initial hiccups right along with Alex.
Three months into using the CAD Import Module and netfabb Studio Pro we have yet to run into a problem importing, converting and repairing any CAD models. The biggest impact was to our bottom line, we sell "time". Our historical method of importing, converting and repairing files took on average 15 minutes per file and while using netfabb CAD Import and Studio Pro we've cut that time down to less than one minute per file.
We would gladly recommend netfabb to our Aero-engine, Power Gen and General Industry colleagues and customers."
Michael Hascher
President - Eagle Engineered Solutions Inc.
Category: 3D Printer
---
Comments
[ 0 ]
Tweet
---
3D printed metamaterial lens focuses radio waves
Thursday, November 15, 2012 by Alexander Oster
For a long time, we have been talking about changing material properties with 3D printed microstructures. In fact, our product "Selective Space Structures" was the first commercial software, that was fully focused on this concept.
Researchers at MIT have thought this further in an astonishing way. By a fine copper coating, they added a necessary conductivity to a 3D printed part - which allowed them to directly the influence its electromagnetic field properties. This way, they created a light-weight "lens
-material", capable of focussing and distorting incoming radio waves.
Read more at the MIT News.
Category: 3D Printer
---
Comments
[ 0 ]
Tweet
---
A new industrial revolution?
Thursday, November 08, 2012 by Susanne Zeitler
With further development, a lot of manufacturers proclaim a new industrial revolution when it comes to 3D printing. Anyone can make anything, anywhere and soon we won't need large factories to make cheap mass-produced-goods. That's at least what they want us to believe and sometimes it sounds pretty visionary.
If you're interested in reasonable prospects, you should read the How to make almost anything article on the website of Foreign Affairs. Don't worry, you won't get disappointed about 3D printing! The opposite will be the case, as you really get to know facts and solid arguments.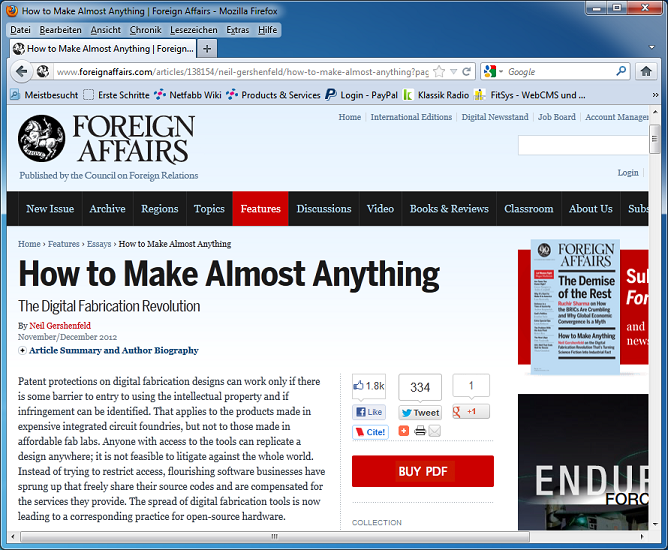 via Forreign Affairs
Category: 3D Printer
---
Comments
[
2
]
Tweet
---
3D Drucker machens möglich
Wednesday, October 24, 2012 by Alexander Oster
The German public broadcasting channel ZDF features the 3D Print Show in London. And in it there is an extensive coverage of the Ultimaker and an interview of our friend Florian Horsch..
via ZDF Mediathek
Category: 3D Printer
---
Comments
[
1
]
Tweet
---
Creating a jewelry model for a 3D printer with Blender and netfabb
Wednesday, October 17, 2012 by Ulf Lindhe
A tutorial by Mikee Rice on how to use Blender and netfabb to build jewelry ring ready for 3D printing.
Category: 3D Printer
---
Comments
[ 0 ]
Tweet
---
Subscribe this Blog
That's an RSS feed. Just click on it to receive content updates.