netfabb Mobile for Android - video demonstration
Wednesday, August 17, 2011 by Ulf Lindhe
A video demonstration of netfabb Mobile from RAPID 2011 in Minneapolis. Many thanks to Scott Volk at GPI Prototype for making an excellent demo. netfabb Mobile for Android can be downloaded at https://market.android.com/details?id=netfabb.mobile.
Category: netfabb
---
Comments
[ 0 ]
Tweet
---
Boy Scout High Tech Camp featuring netfabb Studio software
Monday, August 08, 2011 by Ulf Lindhe
It is always a great pleasure seeing kids get involved in 3D printing and technology and a couple of weeks ago the Laurel Highlands Council Boy Scouts of America organized a High Tech Camp near Pittsburgh, Pennsylvania in the United States.
To get the Scouts interested in Math and Science, several companies donated the use of equipment for the camp. netfabb donated seats of netfabb Studio Professional so that the Boy Scouts could clean-up STL files that they download from the Internet. MakerBot Industries donated a "Thing-O-Matic" 3D Printer so that the Scouts could "print" 3-D items of their own design at the Camp. In addition Next Engine has loaned them a 3-D Scanner, and Delcam provided three licenses of their ArtCam Pro software to use as well.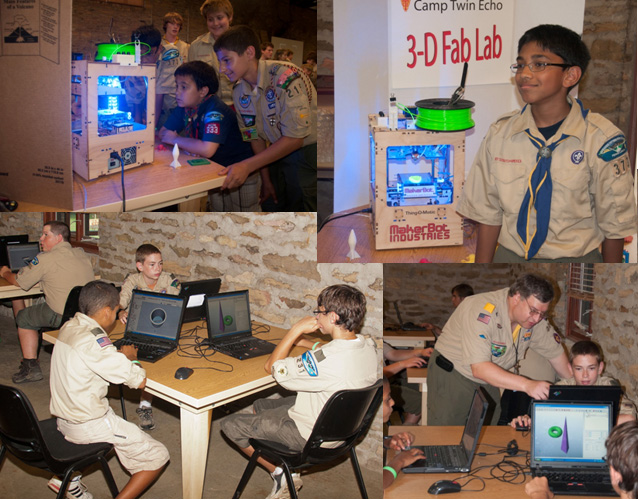 The Advancement Camp was a TREMENDOUS SUCCESS! The Scouts really enjoyed using the netfabb software and working with the MakerBot 3D Printer.
The scouts and their leaders found that netfabb Studio was indispensable in fixing the STLs that were created by other applications. The Scout's were fascinated by the ease that they could create using the netfabb Studio primitives. They really had a great time designing in 3D. In addition to using netfabb to unleash the Scout's creative processes, the Scouts also used Google Sketchup and DelCam's ArtCam software.
Based on the success of the camp, the Laurel Highlands Council is going to do this again at a council wide camporee in September. They are also going to organize a Merit Badge Course using the netfabb / MakerBot / Fab Lab Concept to teach "Model Building and Design Merit Badge" (http://usscouts.org/usscouts/mb/mb075.asp) in November / December and again in the spring of 2012.
Category: netfabb
---
Comments
[ 0 ]
Tweet
---
Subscribe this Blog
That's an RSS feed. Just click on it to receive content updates.